I came across a quote online the other day that truly hit home to me and one that I thought was worth sharing with you.
The quote was..
Sometimes, the smallest step in the right direction ends up being the biggest step of your life. Tip toe if you must, but TAKE THE STEP.
When I think back about this quote, I think back on that one time I was on a weekly mastermind with a few of our members..
We talked about our goals and how sometimes it can be overwhelming meeting those goals that we underestimate what we're capable of achieving.
I recall a member of ours who came out and shared his thoughts on this topic..
He talked about what he feels is the most important factor when achieving anything in life..
..and that is making a commitment to yourself to SHOW UP every day.
He continues on to saying that all the road blocks he personally encountered  along the way had figured itself out once he showed up every day without fail with the intention of doing his best.
When I think about it, this holds so much truth..
Firstly, I truly believe that big things can happen if you just start showing up.
We as a society think that in order to make a difference, we have to make all of these huge sacrifices and big changes in order to do so.
Although it is important to take calculated risks when going after what you want, it's not all entirely the case.
To make big changes in your life, you need to start by SHOWING UP every single day, even when it's hard.
Because once you do that with the intention of doing your best, change will inevitably happen.
When I began my entrepreneurial journey, yes I was overwhelmed and I was nervous..
Having no experience in online marketing what so ever, I underestimated what I was capable of doing.
But I knew that this was the direction I wanted to take and I would do anything in my ability to make it happen for myself.
So I started showing up everyday..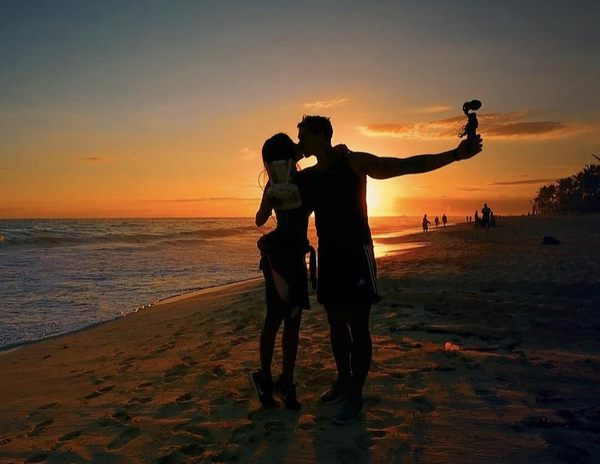 I was open minded, willing to learn, ready to take on challenges and learn new skill sets.
I knew it wasn't going to be easy, but I was committed to showing up with the intention of doing my best because that was the only way I saw myself progressing.
I also focused on my journey and my journey alone.
I didn't compare my progress with others, if people were ahead of me in terms of learning things that I didn't know much about, I wouldn't beat myself down for it.
I knew that everyone has a different journey, we're all going to go through road blocks, we're all going to make mistakes along the way, some may overcome it quicker than others, but at the end of the day, it's our individual journey and if we just make that commitment to ourselves to always show up, you will ultimately figure things out.
Throughout this process, I realised that having that way of thinking could really change all aspects of my life, from my personal life to my professional life, from my relationships to my health and wellbeing. ​​​​​​​
So I started applying this mentality to most aspects of my life.
I'd show up to the gym most days of the week, even if I didn't always feel like it.
I'd show up more in my relationships by reaching out to my parents more who live overseas and spending more quality time with my partner doing date nights each week.
I'd show up more in my work, by making a commitment to learn something new every day that would help me progress further towards my goals.
I made that commitment to show up every day in these aspects of my life, as I know that over time, I'd ultimately be making a positive difference in my life.
My message here today is that when you truly understand the power of just showing up and the power of never giving up, you will learn the true meaning of success.
Change and growth require you to start somewhere and grow from there.
It's one thing to make a huge leap and another to accept that each leap is a stepping stone that will take you closer and closer to your end goal.
Hope you found my message valuable today and that it encourages you to show up everyday, do your best and never give up 🙂
Have a wonderful week and I'll speak to you soon,
Merrilee ​​​​​​​